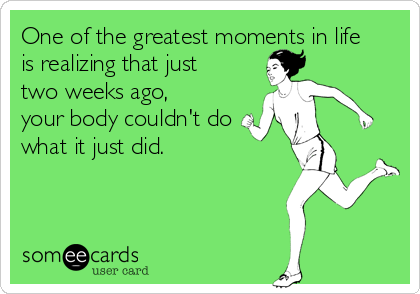 Quotes du jour
: A body in motion tends to stay in motion. - Newton
A body in chair tends to stay there. - Me
When I first set up my new elliptical, I was surprised to find that I could feel the arm muscles getting a work out using the moveable arms. It was actually an effort to pedal for a few minutes. Not a huge effort, true, but the mere fact that it was an effort at all shocked me. This was not a lot to ask of my body. I hadn't realized quite how out of shape I'd gotten. I was also surprised, a day or so later, when I tried the elliptical again. This time, it was much less of an effort.
A few days after that, I ellipticalled for 30 minutes while watching a TV show. Didn't feel anything at all.
It is amazing how quickly a body can adapt to being in motion or being in chair.
Exercise du jour:

10 a.m. -- Get up from my desk. 15 minutes ellipticalling. Done
12 noon -- Get up from my desk. 30 minutes cleaning the house.Fail 30 minutes ellipticalling.done
3:30 p.m. -- Get up from my desk. 30 minutes yard work.Fail. My poor yard
4 p.m. -- 60 minutes ellipticalling.done
7 p.m. -- 15 minutes ellipticalling.done